About
Klaus E. Dietl and Stephanie Müller are based in the midst of a buzzing collective of artists and activists in Munich, Germany. Since 2009 the Mediendienst Leistungshölle has evolved from a vibrant underground studio to an international nucleus for interdisciplinary art projects. Together with performers, musicians, visual artists and researchers they develop sound installations, videos, feature films and interactive live performances.
Besides their art projects Klaus and Stephanie have been engaged as university and guest lecturers – amongst others at the University of Applied Arts Vienna, University Mozarteum Salzburg, University of Salzburg, University of the Arts Bremen, Goethe University Frankfurt am Main, University of Cologne, Ludwig-Maximilians-University Munich and Academy of Fine Arts Munich. Dialogue lies at heart of their art and research projects. Their main focus is on communicative strategies for undermining social control and exclusion. What makes people afraid of complexity and diversity? Why do people tend to cut themselves off from their environment instead of digging into it? What if we would try and pull our heads together?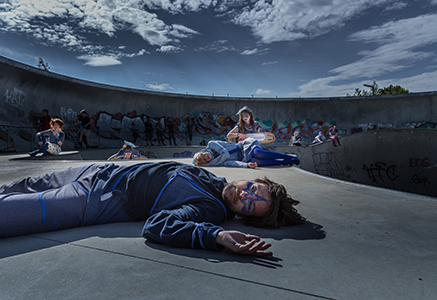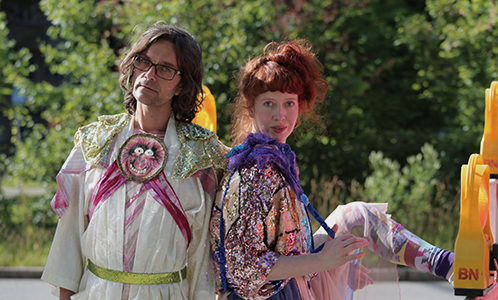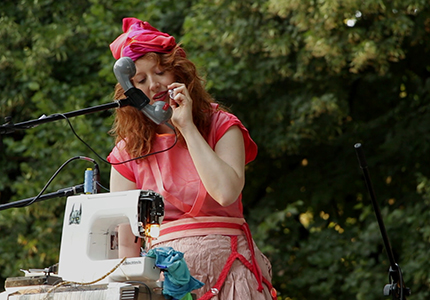 Photos: Victor Veress, Florian a. Betz, Mediendienst Leistungshölle
Stephanie Müller
Stephanie Müller is a visual artist and sociological researcher with a fierce love for experiments and improvisation. She has a master's degree in communication science, sociology and psychology (Ludwig-Maximilians-University Munich) and post-graduated in art and therapy at the Academy of Fine Arts Munich. Still studying she launched her textile and media art project rag*treasure. Stephanie creates textile room installations including performance, sound and video art.
She has been playing the Singer, an amplified sewing machine which can be used as a musical instrument, since 2004. Together with Laura Theis, an Oxford based songwriter with a background in theater and literature, she initiated the experimental music project beißpony. Besides the Singer, Stephanie plays the drums and modified typewriters, umbrellas or vacuum cleaners. In October 2013 their debut album was released on Chicks On Speed Records. Further music collaborations include A Duet of Amplified Sewing Machines (Nähmaschinenduett), Alligator Gozaimasu and OK Decay. Her solo project is called Sewicide. In 2016 Stephanie launched her own record label RagRec.
Klaus E. Dietl
The music videos and live visuals for beißpony and A Duet of Amplified Sewing Machines are directed and created by Klaus E. Dietl, a visual artist with a background in literature and film-making. He studied painting and art theory at the Academy of Fine Arts Munich. In his paintings, sound installations, video and film projects he samples the elements of our daily media coverage, cuts them up and recombines them with other disparate graphical material. His main research focus is on barriers of language and the essence of misunderstandings. What makes us take off the blinkers and question our own insecurities, reservations and double standards?
Amongst others his short films and music videos were nominated and screened at the International Shortfilm Festival in Oberhausen, Germany. In summer 2017 he finished his first full-length feature The Mouth - Our Ultimate Prison (Das letzte Loch ist der Mund). This film was premiered at the Lenbachhaus in Munich.
Links
Visual art
Video and film
Music and sound art
Social media
Selection of travel stipends and residencies
A Clearer Mirror / The Unwritten New Normal – online co-production challenge initiated and supported by Goethe Institut Amman, Jordan – May and June 2020
Stand By – media art stipend within the Digital Spring Festival – supported by the ARGEkultur, Salzburger Kunstverein, subnet und the Center for Human-Computer-Interaction (HCI) at the University of Salzburg – February and March 2020
off/line – stipend for an international art exchange – supported by the artas foundation Zurich, Switzerland – realized in Tbilisi and Zemo Nikozi, Georgia – September and October 2018
BE Festival – European artist in residence programme, full stipend residency supported by the Goethe Institut London and the REP theatre – Birmingham, UK – July 2017, September 2017, July 2018
IKAT/eCUT – festival invitation for the performance project A Duet of Amplified Sewing Machines, travel grant supported by the Goethe Institute – Jakarta, Indonesia – April 2017
SXSW Festival – festival invitation for the music and art project beißpony, travel grant supported by the Department of Culture of Munich + scholarship for artistic production awarded by the Bavarian Ministry of Economic Affairs and Media, Energy and Technology – Austin, Texas, USA – March 2016
Blendwerk Trilogy – full stipend residency with exhibition, supported by the European Center for Art Upper Bavaria Schafhof (Freising, Germany) and the Art Centre Dzyga in Lviv, Ukraine – July till September 2015
Me, Myself and Eye – full stipend residency supported by the Department of Culture of Munich – Tenjinyama Art Studio, Sapporo, Japan – May 2015
Rumble – full stipend residency with solo exhibition, supported by the British Arts Council – Arts Centre deFENIKS, Antwerpen (Mortsel), Belgium – September 2014
DAAD travel grant – for an artistic exchange in cooperation with the Tokyo University of Arts – April 1999
Selection of art projects (exhibitions, performances, art exchanges)
Alligator Gozaimasu, Vol. 2 – an album in episodes - international online music collaboration – since March 2020, ongoing
Räume kultureller Demokratie – interdisciplinary research and art project initiated and supported by the Mozarteum and the University of Salzburg, Austria – since March 2020, ongoing
Catching The Waves – performance and community art project within the media art festival Out Of The Box – hosted and supported by the whiteBOX.art e.V., Munich, Germany – January 2020
Personal Statements - Rituals in Sound, Text and Movement – performance, sound art and community programme within Senga Nengudi's exhibition Topologien – Lenbachhaus, Munich, Germany – September 2019 till January 2020
#EXIST - die ganze Stadt eine Baustelle – group exhibition – Galerie der Künstler, Munich, Germany – July and August 2019
Beihilfe zum Bankrott – performance and visual art presentation within the exhibition "Archives In Residence: AAP Archive Artist Publications" – Archivgalerie, Haus der Kunst, Munich – October 2018 till June 2019
VollStoff - mixed media installation within the opening festival of "100 Years Bauhaus. The Opening Festival" – Akademie der Schönen Künste, Berlin – January 2019
Das Unarchivierbare Archivieren – opening performance for the art conference – Documenta Archive, Kassel, Germany – 22nd of November 2018
Die Freiheit erhebt ihr Haupt / Kurt Eisner – group exhibition, a.o. with Herbert Achternbusch, Manuela Clarin, Günther Förg, Lina Zylla, Rupprecht Geiger – Rathausgalerie, Munich, Germany – 30th of October till 24th of November 2018
Ich brauche eine Genie – mixed media performance and lecture, collaboration with Mascha Alechina (Pussy Riot / Moscow, Russia) – Berghain Kantine, Berlin, Germany – 21st of April 2018
Fabric/ate – collaborative exhibition with Lisa Silveira Caneiro and Gili Avassar – Schneidertempel Art Galery, Istanbul, Turkey – 5th of September till 8th of October 2017
From Textile Wasteland to Crystal Graceland – resedea off space, Zurich, Switzerland – January 2017
Auch wenn es Flucht bedeutet – GlogauAIR, Berlin, Germany – November 2016
Schmiede #16 – media art festival and laboratory – Hallein, Austria – 16th till 21st of September
Biennial of Neglected Life Forms – art space "Das Klohäuschen", Munich, Germany – July 2016
Kontrolle ist besser – solo exhibition – Sigismundkapelle, Regensburg, Germany – April till May 2016
No Liability Is Taken for Wardrobe – visual art installation, performance and discussion – Applied Innovation Laboratory (AIL), Vienna, Austria – Dezember 2015, January 2016
The Common Thread – District Court, Munich, Germany – November 2015
Art Street – video screening in public space – Sapporo, Japan – November 2014
Aussage gegen Aussage – solo exhibition – AK68, Wasserburg am Inn, Germany – March and April 2013
Einen Fehler machen, alle Fehler machen, ordentlich Fehler machen – room installations, workshops, performances – Kunstarkaden, Munich, Germany – February and March 2012
Playing The City 3 – public performances – Kunsthalle Schirn, Frankfurt am Main, Germany – August 2011
Punkt.Komma.Stich – mixed media theatre – ZKM, Karlsruhe, Germany – April 2011
DIY Ausstellung – touring exhibition – Berlin, Dortmund, Frankfurt am Main, Germany – 2011 and 2012
Amerika – Werkleitz, Centre for Media Art – Halle a.d. Saale, Germany – August till October 2008
Her Position in Transition – Mixed media theater – Museumsquartier, Vienna, Austria – March 2006
Noniforms – textile art presentation at the Alternative Fashion Week – London, UK – March 2006
Rag Dolls - Beauty and Blackness – touring exhibition – Intermundia Festival, Rome; Gallery l'Espace Canopy, Paris; HomoAgogo, Olympia (Washington); SomArts, San Francisco (California) – 2005 till 2007
Selection of grants and prizes
Innovationsfonds Kunst – funding program for art and culture in rural areas – project stipend for the interdisciplinary art exchange Finde Tandems – supported by the Ministry of Science, Research and Art Baden-Württemberg – Horb am Neckar, Germany – July 2019 till September 2020
LAFT (project grant for visual art, performance & theatre) – awarded by the Landesverband Freie Tanz- und Theaterschaffende Baden-Württemberg e. V. – January till October 2018
Studio grant – awarded by the Antonie-Leins-Künstlerhaus, Horb am Neckar, Germany – since April 2017
Förderpreis Musik (award for young, avantgarde sound artists and musicians) – awarded by the Department of Culture of Munich, Germany – July 2015
First prize for young and contemporary art – Wasserburger Kunstverein, Germany – August 2013
Scholarship program of the Initiative Musik – launched by the German government to cover the labor expenses of talented musicians and sound artists – 2013 till 2014 and 2017 till 2020
Studio grant – awarded by the Department of Culture of Munich – 2011 till 2014 and 2017 till 2020
First prize for applied arts – awarded by the district of Upper Bavaria, Munich, Germany – 2010
Second prize at the exhibition "Vernetzung" – Haus der Kunst, Munich, Germany – April 2009
International "Baltic Fashion Award" – Berlin and Heringsdorf, Germany – October 2005
Selection of nominations
Award German Speaking Countries – Art Visuals & Poetry Film Festival, Vienna, Austria – 29th of November till 1st of December 2019
MuVi Prize – International Short Film Festival, Oberhausen, Germany – 2014, 2017, 2018 and 2019
Art Prize "Grace" – nominated by the Archdiocese of Freiburg, Germany – 2014
The Missing Link – International award in the field of arts and social sciences – Zurich, Switzerland – 2013
Metallic Recycling Fashion Award – Cultural Department of Zurich, Switzerland – 2008
Selection of curatorial projects supported by the Department of Culture of Munich
Rasenmäher in E-Moll – online collaboration – music short film developed and realized by beißpony (RagRec / ChicksOnSpeed Records) – June 2020 till October 2020
Jaborosa anura – mixed media art project – Botanical Garden Munich Nymphenburg, Germany – June 2019 till October 2019
Scratch & Screen – art exchange with Japanese artists and musicians – Ebenböckhaus, Munich (Germany), Sapporo (Japan), Tokyo (Japan) – since September 2015, continuation August and September 2016
The Fabric – MaximiliansForum, Munich, Germany – 2012 (group exhibition and laboratory)
Einen Fehler Machen, alle Fehler machen, ordentlich Fehler machen – Kunstarkaden, Munich, Germany – 2012 (group exhibition with sound workshops)
Textiles Unbehagen – art space "Die Färberei" and "Galery Stephan Stumpf", Munich, Germany – 2011 (group exhibition in cooperation with the University for Applied Arts in Vienna)
The Needle and The Damage Done – art space "Farbenladen", Munich, Germany – 2010 (group exhibition)
Yara e.V. - Don't Tell Me What to Do – ongoing art exchange with young refugees and queerfeminist activists – Munich, Germany – since 2009
Aufstand der Textilen Zeichen – art space "Die Färberei", Munich, Germany – 2009 (group exhibition)
Selected publications (text & audio)
M - eine Stadt sucht einen Mörder – composition in collaboration with Cathy van Eck and Johannes Öllinger for Schorsch Kamerun's radio play (Public broadcasting station Bayerischer Rundfunk and Residenztheater, Munich 2020)
Never A Trophy, Just A Steal – Sewicide's first EP release (RagRec, Munich, 2019)
Für alle, die da fallen – OK Decay's first CD release (RagRec, Munich, 2018)
Licht im Kasten – composition for Elfriede Jelinek's radio play (Public broadcasting station Bayerischer Rundfunk, Munich 2017)
Beasts & Loners – beißpony's second album (LP) (RagRec, Munich, 2017)
Beyond The Rainbow – composition for Jörg Albrecht's radio play (Public broadcasting station Bayerischer Rundfunk, Munich 2017)
Alligator Gozaimasu – Sampler (LP) with sound art collaborations between artists from Munich, Japan, Brazil, the Ukraine and South Africa (RagRec, Munich, 2016)
Städel - Der Soundwalk – audioguide (Public broadcasting station Deutschlandfunk & Städel Museum, Frankfurt a. Main, 2015)
Unfolding the text body of motion pictures – published in "Sexuelle Differenz und Psychoanalyse. Texte zur Sozialforschung" edited by Oliver Decker et al. (Pabst Science Publishers, Lengerich, 2015)
Brush Your Teeth – beißpony's debut album (CD and LP) (Chicks On Speed Records, Munich, 2013)
Temporary Office for Irrelevant Signs – published in the anthology "Stadt(t)räume – Ästhetisches Lernen im öffentlichen Raum" edited by Meike Schuster (kopaed, Munich, 2013)
Exclusive! Fashion and Crafts between Exchange and Marginalisation – published in the anthology "Banale Kämpfe? Perspektiven auf Populärkultur und Geschlecht" edited by Prof. Dr. Paul-Irene Villa (Springer VS, Heidelberg, 2012)
Interviews and Press Voices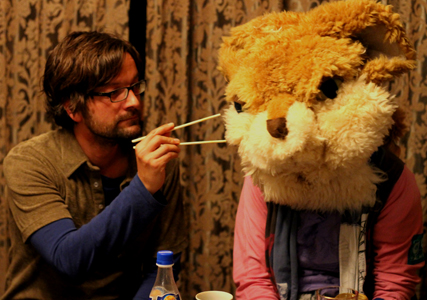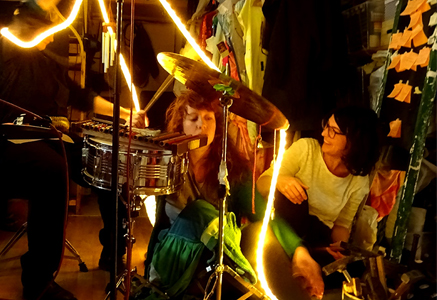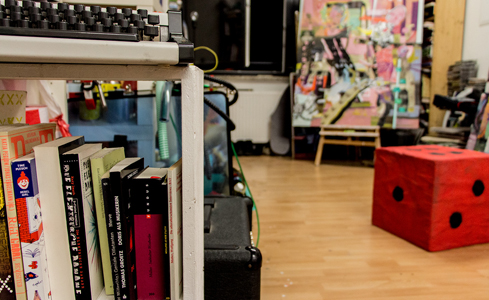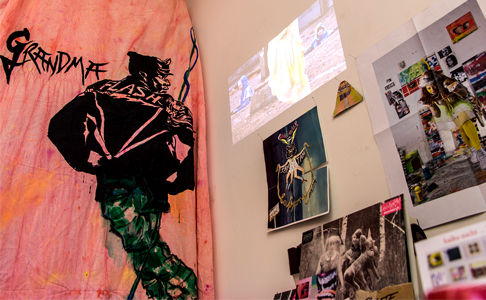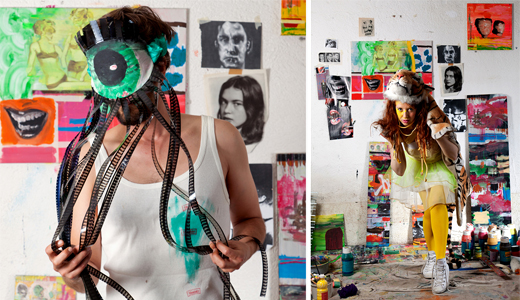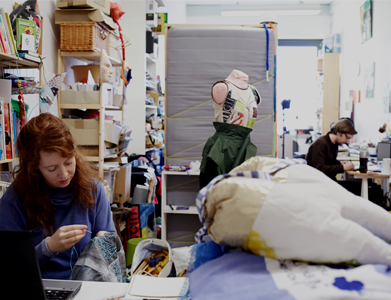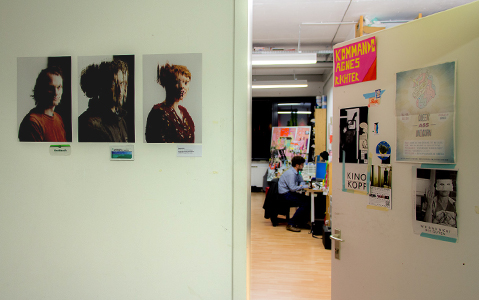 Photos: Conny Mirbach, Mediendienst Leistungshölle