Alligator Gozaimasu
an album in episodes 1st episode: July 2020 followed by further episodes each month till December 2020 label: RagRec
alligatorgozaimasu.bandcamp.com
Alligator Gozaimasu (pronunciation: Alligator Goh-sai-mahs) refers to the Japanese expression Arigato Gozaimasu (English: Thank You Very Much), just with a bity "Alligator"-spice on top.
Alligator Gozaimasu is made of many heads, voices and noises. The sound collective, with about 60 members spread all over the world, is back on the map with their upcoming release: Solange bunte Balken durchlaufen (engl.: As Long As Render Bars Go Colourful). The album title refers to the process of rendering in audio or video editing programmes.
The centerpiece of the XXL band is the experimental pop group beißpony (ChicksOnSpeed Records). In the midst of the lockdown beißpony's percussionist and songwriter Stephanie Müller reactivated a music collaboration that had already started in 2014. This spring, step by step, more artists and sound lovers joined in.
During the process of sharing sonic fragments, voices and noises online, the collective decided to try an album in episodes: an album that is open for all the different circumstances and needs of such a large band, an album that celebrates mood swings and listens closely to the different tempi in these days.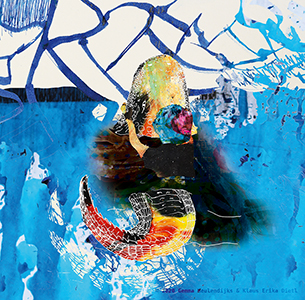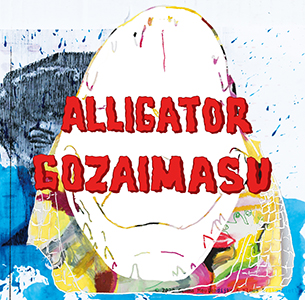 Alligator Gozaimasu ... a flashback
It all started at the Kafe Kult, one of the oldest DIY venues in Munich, founded in the 1980s. Allison Wolfe from Bratmobile played there, The Notwist, Chain and the Gang, Lightning Bolt, Lydia Lunch and Kimya Dawson. Alligator Gozaimasu's Stephanie Müller used to be part of the booking collective and all these different musicians inspired her a lot. The Kafe Kult is also the place where she met the German Turkish singer songwriter Laura Melis Theis for the very first time. It was during a Kimya Dawson concert in 2006. It didn't take long and the two of them started their own music project – beißpony. In the meantime filmmaker and sound artist Klaus E. Dietl joined in.
In 2014 they started Alligator Gozaimasu during an art and music exchange in Japan. There they had the unique chance to dive deep into Sapporo's music scene and to work together with artists such as Cup & Saucers, Takeshi Hattori, Miboujin, OTACO, Aoi Swimming and Shimettainu.
In 2016 Alligator Gozaimasu released their debut LP: a vinyl as refreshing as an amplified tea ceremony with DIY punk spirit, no fear of dissonances and a fierce love for minimal sound experiments.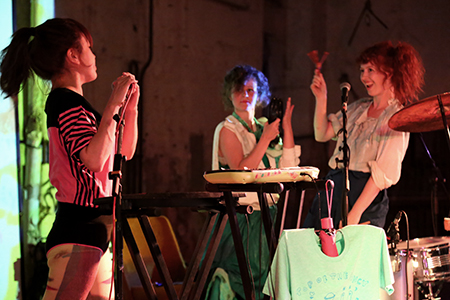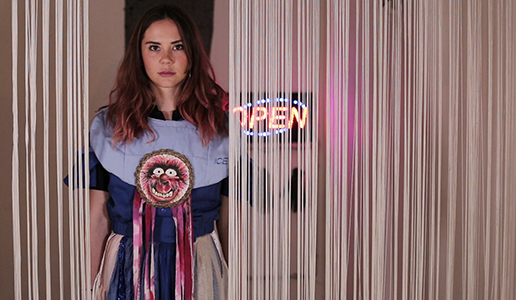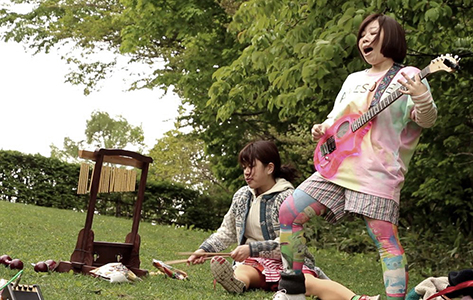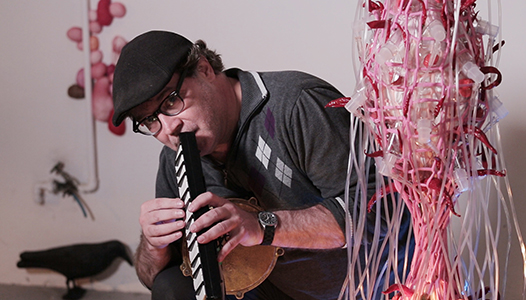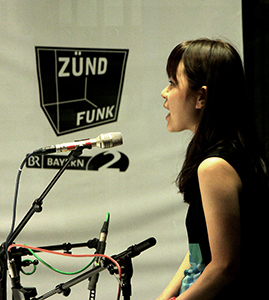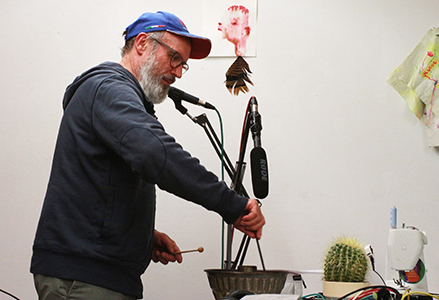 Photos: Mediendienst Leistungshölle
... to be continued ...
Since then further artists have joined in. They come from Berlin, Bremerhaven, Horb am Neckar, Salzburg, Vienna and Zurich, from Phoenix (Arizona, USA), Dakar (Senegal), Istanbul (Turkey), Ivano Frankivsk (Ukraine), Oxford (UK), Rome (Italy), Sevilla (Spain), Turku (Finland) and Tokyo (Japan).
On Friday the 24th of July they will celebrate the international release of the first episode of their upcoming album Solange bunte Balken durchlaufen. Further episodes will follow each month – definitely till December 2020. All episodes will be available via Bandcamp. All revenues will be donated.
Episode #1: Solange bunte Balken durchlaufen (As Long As Render Bars Go Colourful)
local pre-release: Monday, 20th of July 2020 international release: Friday, 24th of July 2020
Something vague is raising its voice in between the lines. The first episode consists of 17 songs. They swing along with all the ups and downs of the past weeks and months. The episode celebrates the beauty of delay. Digital interferences and latencies are not edited. Instead they become a mutual part of the collaborative compositions.
Miboujin's "Distance Work Mix" captures the melancholy of way too tight apartment tristezza. The trio, based in Sapporo (Japan), drops out of their own collaboration with a radical cut in the midst of wild clubbing.
Inga Ramona Hansen aka INGA, who recently published her debut vinyl on the legendary underground label Trikont, is in search for a language far away from restrictions. Together with the performance and sound art trio The Hercules and Leo Case she composed a chansonesque declaration of love for the strange cosiness of weak spots.
German beat poet Sarah Ines tries to enter the dreamy suburban dystopia of her six year old bandmate Rauna Pale. Their composition "Wunderkind Wonderchild" sounds like a tribute to a Patti Smith who had the chance to meet Tabea Blumenschein (Die Tödliche Doris).
Şevket Akıncı und Nihal Saruhanli from Istanbul open the inner cinema. Their instrumental "Earthlings" digs into the rough poetry of films such as "Vagabond" (director: Agnés Varda) or "Abluka" (director: Emin Alper).
"They Are All Drawing Penguins These Days" starts with Karl Hagen's accordion. In a beautiful way it sounds like a Duracell bunny on low batteries. However, the composition has no fear of any breaks. It takes a rest at camp fire inflamed by light bulbs, just to end up in Lina Zylla's catchy mantra – be strong.
On Friday the 24th of July sound lovers are heartily invited to enter Alligator Gozaimasu's sonic cosmos and to join the journey till December 2020. All revenues will be donated, this time to Sea Watch e.V., a non-profit organization that conducts civil search and rescue operations in the Central Mediterranean Sea.
The episodes – the album
Videos
Interviews and press voices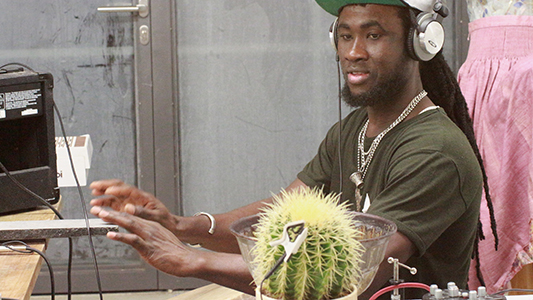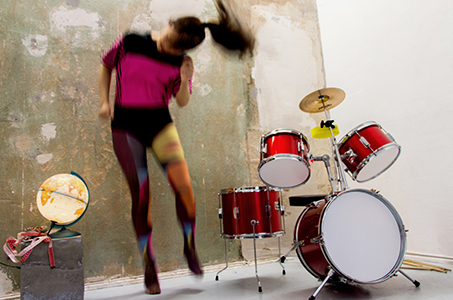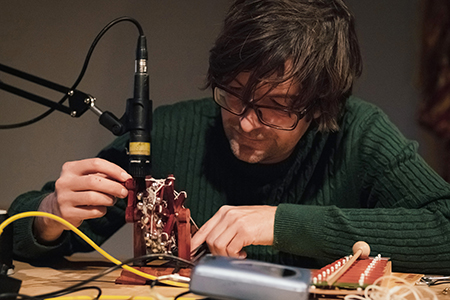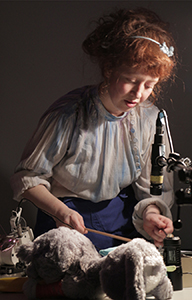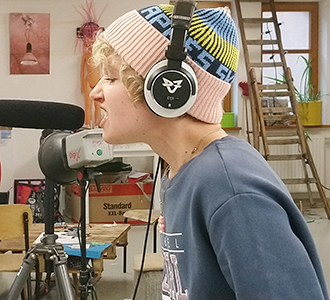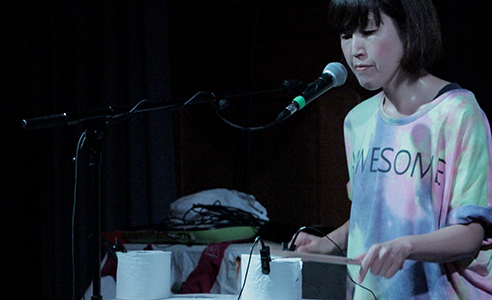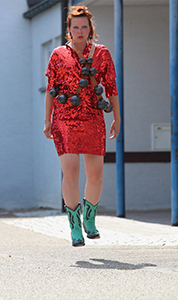 Photos: Mediendienst Leistungshölle, Severin Vogl
Music collective - many voices and noises
Şevket Akıncı, Hannah Aram, Mandana Behdad, Dr. Bewald, Ruslan Boyarin, Tom + Milo Brandis, Dominic Caudr, Cup & Saucers (Miyuki Mori, Mari Watanabe), Klaus E. Dietl, Colin Djukic, Doctorella (Kerstin Grether, Sandra Grether), Daniel Door, Gamut Inc (Maciej Śledziecki, Marion Wörle), Thomas Glatz, Fredi Grosser, Karl Hagen, Inga Ramona Hansen aka INGA, Helena Hartmann, Kornelia Hartmann, Tizia Hartmann, Nicolai Herrmann, Lara Holy, Sezgin Inceel, Sarah Ines, Institut für Leistungsabfall und Kontemplation (Martin Krejci), Jo, Elisabeth Anna Maria Kaiser, Anton Kaun aka rumpeln, Lachpillenonkel, Phoebe Lesch, Andrea Lesjak, Caspar Lesjak, Verena Marisa, Corinna Mattner, Djibril Mbow, Gemma Meulendijks aka M I A, Miboujin (Mei Ann, Yuko Fukasawa 深澤優子, Izumi Hirakawa 平川いずみ), Stephanie Müller aka Rag Treasure, notum, Nunofyrbeeswax (Angela Muñoz, Davide Maione), Masako Ohta, Mimosa Pale, Rauna Pale, Andreas Purkhart, Tobi Ruhland, Nihal Saruhanli, Patrick Schimanski, Lisa Simpson aka Agente Costura, Bernadette Stadler, Emil Stadler, Aoi Swimming, Shimettainu, Miu Terada aka OTACO, Billie Thomason, The Hercules and Leo Case (Maria Berauer, Katrin Petroschkat, Karolin Knote), Laura Melis Theis, Pelin Arbel Yüksel, Carla Zuccon, Paula Zuccon, Fabian Zweck, Lina Zylla
... to be continued ... to be edited ...