Arms Are for Hugging, Arms Are for Mugging
visual art and performance Klaus E. Dietl and Stephanie Müller The Repertory Theatre (REP), Birmingham, UK
selected for the festival's European Visual Artist in Residence Program, full stipend, July 2017 – July 2018
collaboration with media artist Jonathan Fuller-Rowell
guest artist: Laura Melis Theis
Arms Are for Hugging, Arms Are for Mugging is a multidisciplinary art project. In July 2017 it was started by Klaus E. Dietl and Stephanie Müller during the first part of their European fellowship in Birmingham, UK.
In September 2017 Dietl and Müller gave a first insight into their work in progress. In the midst of Birmingham's well-known and highly frequented Bullring market they installed their work station and meeting place Protection Shields to Go.
Since then Dietl and Müller have been elaborating their ideas in collaboration with British media artist Jonathan Fuller-Rowell. The final results were presented in July 2018 at the Repertory Theatre (REP).
Arms Are for Hugging, Arms Are for Mugging plays with the borderline between domestic cosiness and uncanniness. It consists of three main parts: Cut It in Half, Protection Shields to Go and Sniffin' Diamonds, Cutting Glue.
What if Ms. Liberty's spiral topiary cones finally break free and hitchhike a shopping trolley? And even Dusty Doormat tries one step beyond? Sometimes our same old same strategies to get in touch with others do not work with everybody. Each person has different needs, so we kind of need different adapters to have the change to listen to and exchange with our vis-á-vis. What makes us want to question our daily routines? What if we would take off the blinkers and try and pull our heads together?
Videos: Jonathan Fuller-Rowell, Mediendienst Leistungshölle
Part I – Cut It in Half
During their stay in Birmingham in July and September 2017 Klaus E. Dietl and Stephanie Müller often heard the phrase "Please, cut it in half". On the one hand there seems to be a need for greater clarity. For example within daily consumption. People seem to enjoy tiny bites and bits. But there is also something more serious in this phrase. Just a few years ago, the trees on the way to Birmingham's library had been cut in half, to prevent the citizens from the abstract and absurd danger of terrorists hiding in tree crowns. Not only in Birmingham, but all around the world we have to experience a tendency to define and defend borders. As if we are not able to hold constructive dialogues anymore. Within the installation Cut It in Half people find themselves vis-à-vis, but without any distance. The construction invites them to leave their comfort zones and to stick quite close to each other. A situation most of us usually try to avoid.
Part II – Protection Shields to Go
The artist trio cuts in half a wardrobe and transforms it into a "pharmacy of missing links". The cut in half sculpture is equipped with a series of handmade devices that, on the first sight, might look like protection shields to cut yourself off from your environment. But if you have a closer look, they invite the wearer to concentrate and focus or to cross the separators and take off the blinkers. Each device is a unicum and like medicine it comes with a recipe that explains how to use it. The recipe is presented in the guise of a video tutorial. Dietl, Fuller-Rowell and Müller shot the video out in the streets of Birmingham. The music is composed by Dietl and Müller. Fabian Zweck is in charge of the sound design.
Klaus E. Dietl and Stephanie Müller like to play with the idea of excessive demand. They decided to create one protection shield for each visitor. During the festival's grand opening they gave away 300 sleeping cyclop masks - each object handmade and unique. Together with Jonathan Fuller-Rowell they also shot and edited a short video tutorial that introduces the sleeping cyclop mask.
Part III – Sniffin' Diamonds, Cutting Glue
Sniffin' Diamonds, Cutting Glue is a treasure chamber on wheels. In public space it can be moved around from place to place. Jonathan Fuller-Rowell elaborated the construction. In the midst of all the hustle and bustle Klaus E. Dietl and Stephanie Müller try to create and maintain a kind of protective atmosphere. Passers-by are invited to enter the chamber and bring along insecurities and reservations. Dietl and Müller listen carefully to the ones who entrust them with their concerns. Then they start to transform their fears, their problems – everything that's usually immaterial and not tangible, everything that keeps us from reflecting and acting - into a piece of take-away artwork. Step by step the interior of the cosy chamber, each piece of art, will be deconstructed in order to create something for the people. Let's rip it up and start again.
Songwriter Laura Melis Theis (Oxford, UK) joined during the performance sessions in the mobile swapping chamber Sniffin' Diamonds, Cutting Glue.
Links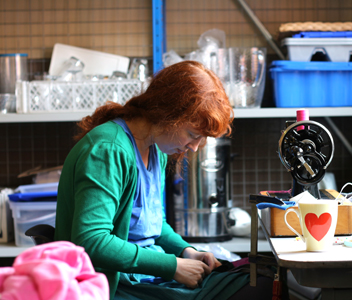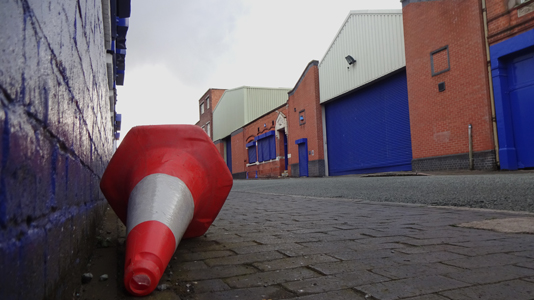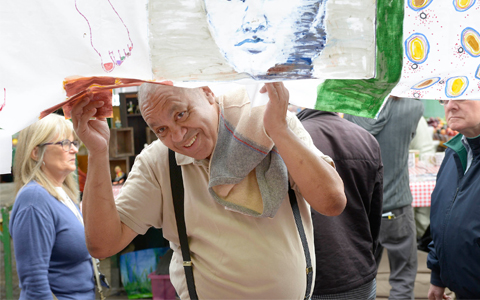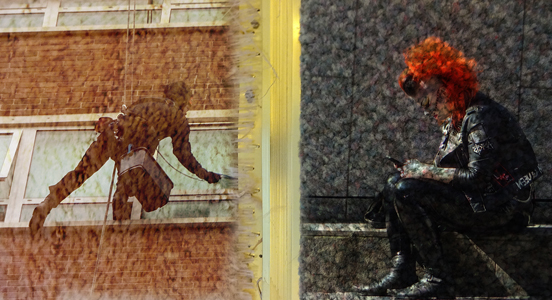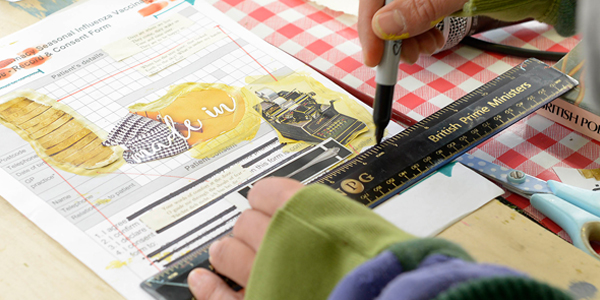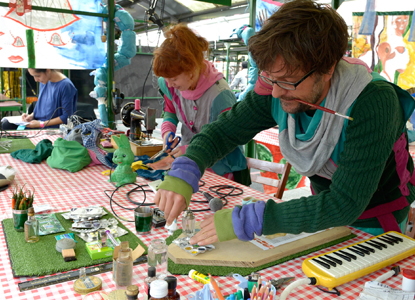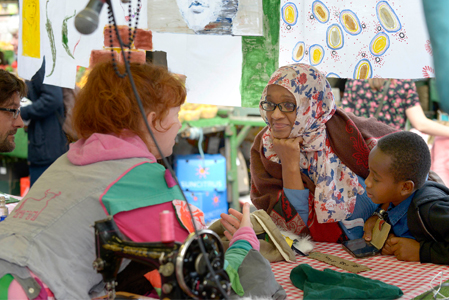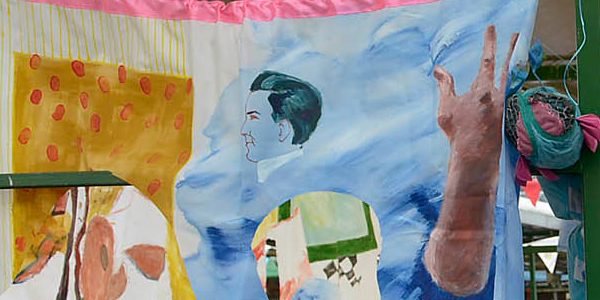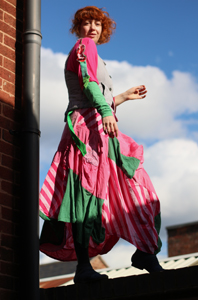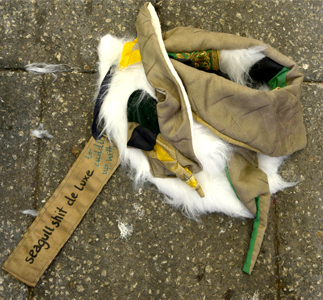 Photos: Jonathan Fuller-Rowell, Mediendienst Leistungshölle